Summer Camp
Details
Athletes: Male and Female aged 13-18
Dates: August 12th - 16th
Time: 9:00 am - 4:00 pm Daily with Friday afternoon Tournament
Location: Living Waters Christian Academy
Cost: $350 Early Bird: Now - June 12, 2019
$400 Regular: June 13 - July 11, 2019
$450 Late Registration: July 12 - August 2, 2019
Special Price 2 DAYS ONLY July 31 - August 1 $350
New this year: Beach Volleyball, Sitting Volleyball, Team Tie Dying, Team tournament events - for treat prices, Lots of new drills
FEATURED COACHES
Olivia Abram - Head Coach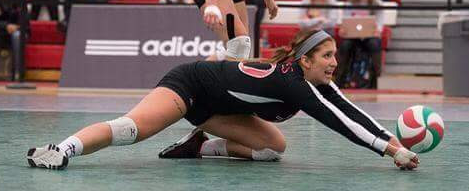 Olivia's second season with us, and we are thrilled to promote her to the Head Coach position. As an NCCP certified Advanced Development Coach, she specializes in planning purposeful sessions, delivering specific technical and tactical feedback, and injecting energy into the gym! After graduating, she played two years as a nationally ranked libero in the CCAA, averaging over 5 digs per set and breaking multiple dig records, and is now preparing to return to volleyball this fall with the University of Saskatchewan Huskies while obtaining her Masters. Olivia is the head coach for Female Libero Schoolâ"¢ and has mentored athletes from junior high to post-secondary preparatory programs in both indoor and beach while working with various clubs, camps, and Team Alberta Volleyball.
She has a keen eye for technical adjustment and uses this ability to produce results. Her experience and expertise will help athletes find a new level to strive for.
Jesse Elser - Assistant Coach

Jesse Elser is new to our staff this year, joining us from Calgary, Alberta. Jesse, who has received multiple player of the year, MVP, and all-star awards, was selected to compete with both Team Alberta and Team Canada, after winning multiple National beach and indoor championships in his youth and university career. He also trained and played at the Volleyball Canada National Full-Time Training Center. Jesse is entering his third year with Trinity Western University Spartans, the defending 2019 national champions; his team has won three of the last four championships. He is a dynamic 6'8" outside hitter who made the All-Rookie team in his first year. We look forward to a week of his expert coaching! week of his expert coaching!
Sport Psychologist - Danielle Cormier