Summer Camp
Directors
Summer Camp 2023
Details:
Athletes: Male and Female aged 10-18
Dates: Athletes 10- 13 yrs old - August 14th - 18st
or
Athletes 14- 18 yrs old - August 21st - 25th
Time: 8:30 am - 3:00 pm Daily with Friday Pizza Party and afternoon Tournament
Location: Living Waters Christian Academy
Cost: $375 Camp Fee for 2023 plus a VA membership fee of $21.89 If you have an annual membership already you are good however, if you are new than this membership fee needs to be purchased. I will be adding the link to complete this at a later time. This VA membership is for the period of September - August.
After July 3, 2023 Camp Fee is $450
Further Information:
Skills Technical Training will be from 3:15 - 5 pm Monday - Thursday
Fridays from 3:10 - 5 pm will be Open Gym.
Fees and details on this will be coming soon and you will find the details on our clinics page here:
---
Friday Activities:
Morning Beach Volleyball, please come watch or drop your athlete off @ Woodhaven outdoor courts - rides back to camp school will be needed at 11:45 a.m. They are approximately 5 min away from each other. If you are able to find a ride with another camper's parent that is great.
The pizza lunch will be provided as soon as we are back at the school.
Afternoon tournament - with prices, everyone is welcome to come watch and cheer on your athletes
RIDE WAVIER: If you need a ride with a coach please sign the wavier presented Monday morning.
Camp activities: Volleyball, Beach Volleyball, Sitting Volleyball, Team Tie Dying, Team tournament events - for treat prizes, Lots of new drills
FEATURED COACHES

Olivia Abram - Head Coach
Olivia continues in the Head Coach position for our camp. We are so thrilled to have this incrediblly talented coach and athlete, technical libero, back with us again. Olivia continues her studies at U of Sask. as an Education Masters student. As an NCCP certified Advanced Development Coach, she specializes in planning purposeful sessions, delivering specific technical and tactical feedback, and injecting energy into the gym! After graduating, she played two years as a nationally ranked libero in the CCAA, averaging over 5 digs per set and breaking multiple dig records. Olivia is the Head Coach for the Female Libero School and has mentored athletes from Jr high to post-secondary preparatory programs in both indoor and beach while working with various clubs, camps, and Team Alberta Volleyball.
She has a keen eye for technical adjustment and uses this ability to produce excellent results in her athletes. Olivia's knowledge, understanding and passion for the sport of volleyball allows her to mentor athletes to be the best version of themselves. Impressive to watch! Her experience and expertise will encourage and advance athletes to strive further.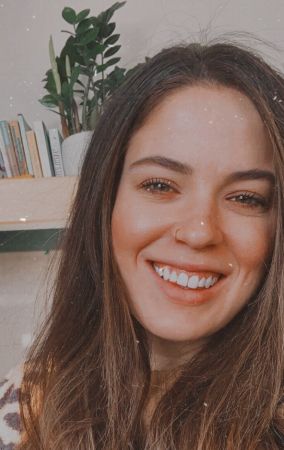 High Performance Mental Training Consultant - Sport Psychologist and Assistant Coach - Dr. Danielle Cormier
Danielle, originally from Edmonton, is a Ph.D. candidate in the College of Kinesiology at the University of Saskatchewan. In her research, she is passionate about encouraging athletes to build on their character strengths - rather than focusing on their weaknesses. She is particularly interested in the study of grit* and self-compassion in athletes competing at both elite and developmental levels. Danielle has coached volleyball for almost 13 years and has been affiliated with the Pandas and Nooks Volleyball Clubs, Ardrossan Jr. Sr. High, and Jasper Place High School teams. As head coach Danielle led her Bishop James Mahoney Sr Girls team to a silver medal at the 2019 Provincial Championship in Sask.. She has also been involved as the Director of the Volleyball AB Jasper and Sylvan Lake volleyball summer camps. Danielle has an incredible presence with teenagers and continues to find new interesting ways to connect and help them think and process positive thoughts and outcomes. We are thrilled Dr. Cormier is taking on an even bigger role this year with incorporating her volleyball training as well for our TAWVC summer camp! Welcome back Dr. Danielle Cormier!
* Study of Grit - Grit was defined as "perseverance and passion for long-term goals" by psychologist Angela Duckworth and colleagues, who extensively studied grit as a personality trait. They observed that individuals high in grit were able to maintain their determination and motivation over long periods despite experiences with failure and adversity.
en.wikipedia.org/wiki/Grit_(personality_trait)
TBA - Assistant Coach - Possible Jesse Elser